---
[ Mark-Off | Purchase Products| Contact Us | Employment | Gulf Coast CLEAN-UP | Rusty Duck | Clean Up America | Home Page ]
<![if !supportEmptyParas]> <![endif]>
** Shop for Rusty Duck Products Online **
<![if !supportEmptyParas]> <![endif]>
Hydra-Tone Chemicals Inc is happy to welcome you to our home on the web.
Hydra-Tone Chemicals, Inc. was founded in Fort Mitchell, Kentucky in 1978.  Hydra-Tone Chemicals is a manufacture of specialty chemical products, marketed to industrial, commercial, governmental and retail industries. The Company's success has been based on its people who have strategically focused there visions to master innovations on developing new technology, research and development of new products, implementations of efficient chemical management programs, and successful retail marketing campaigns.
<![if !supportEmptyParas]> <![endif]>
Since 1978 Hydra-Tone has manufactured a complete line of polymer corrosion and scale inhibitors, sludge conditioners, de-scaling agents, micro biocides, flocculants and dispersants for the heating, cooling and wastewater treatment industries. In the transportation industry the Company has provided complete fleet cleaning management programs. Immersion and spray cleaning products, rust inhibitors, lubricants, for the metal parts cleaning industry and a multitude of general purpose cleaners, floor cleaners, sealers and other industrial , commercial and retail products.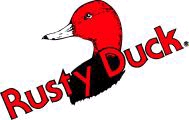 In 1983 Hydra-Tone introduced Rusty Duck, a line of cleaners, Lubricants designed for cleaning and lubricating all sporting equipment (Firearms, fishing reels, marine equipment, etc). Rusty DuckTM sportsman products are to day, rated as the pre-fired line of cleaning and lubricating products in the outdoor industry.  In 1993 Black OffTM was added to the Rusty Duck line of products revolutionizing the cleaning of black powder rifles in the Black Powder Shooting Industry.  Today the Rusty DuckTM product line has grown to include 40 different products. Over the year's sportsman have enjoyed great success with Rusty DuckTM and now Homeowners alike are also utilizing Rusty DuckTM in their everyday household needs.

<![if !supportEmptyParas]> <![endif]>
Green Team Products Flyer
<![if !supportEmptyParas]> <![endif]>
1995 Hydra-Tone chemicals launch a massive global research and development project investigating new technologies to develop environmentally green friendly products that would enhance cleaning performances, provide worker safety and have a positive impact to the environment. This remarkable technology offered the opportunity to replace all traditional chlorinated and caustic cleaning products that were classified as corrosive, hazardous, flammable and dangerous to use. Hence, Hydra-Tone Chemicals launched what is known as the Green Team Line Of Cleaning Products: MARK-OFFTM, MARK-OFFTM PLUS, EAGLE KLEENTM, GREEN KLEEN.  The first product development was focused on replacing all corrosive and hazardous paint strippers in the paint industry. Mark-Off and Mark-Off Plus was introduced to clean graffiti and to be implemented in industrial metal painting operations. Eagle Kleen was develop to replace all chlorinated and corrosive traditional metal degreasing products used in the metal degreasing industry. Green Kleen was introduced as a water-soluble mild to heavy duty concentrated multi purpose cleaner. All of the Green Team Line Of Cleaning Products is non-corrosive, non-hazardous, non-flammable, environmentally Green friendly and 100% biodegradable.
---
[ Mark-Off | Purchase Products| Contact Us | Employment | Gulf Coast CLEAN-UP | Rusty Duck | Clean Up America | Home Page ]
<![if !supportEmptyParas]> <![endif]>
Copyright©2000 Hydra-Tone Chemicals Inc.*
HYDRA-TONE CHEMICALS, INC.
PO Box 75788
Cincinnati, OH 45275
Phone: 859-534-5630 Fax: 859-594-3312